UtahValleyMarathon.com
Registration Open
NOW!
Register Today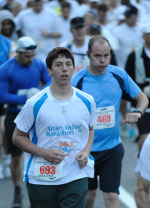 Race Date
Saturday, June 13, 2015
Start Time
Marathon: 6:00 AM
Venue
Start: E. Main Canyon Rd., Wallsburg, UT, southeast of Deer Creek Reservoir
End: Utah County Courthouse grounds
Brief Description
The Utah Valley Marathon is a beautiful race course that begins in Wallsburg, Utah, running into Provo Canyon and features much of the diverse scenery offered in Utah County. Marathon runners will run along canyon roads that follow the Provo River.
The race course has spectacular views of Bridal Veil Falls, the mountains, and the city. This Utah Marathon finishes in historic downtown Provo at the Utah County Courthouse park.
Additional Information
Aid stations at miles: 3, 5, 7, 9, 11, 13, 15, 17, 19, 21, 23, 24, 25, 26.2 (aid station details)
All participants receive a tech shirt
Portable restrooms along the race route
Buses will leave race morning from two different pick up locations
Finisher medals will be given to those who complete the course in less than 6 hours
Awards to the top 5 in each age division in the marathon
Top 5 men and women receive prize money
This Utah Marathon is USATF sanctioned & certified
Check out the Utah Valley Marathon Course Map
ALL proceeds go to charity. Learn more about our charitable causes.
All marathon finishers will receive prizes from Sierra West
Divisions
14 & under, 15-18, 19-24, 25-29, 30-34, 35-39, 40-44, 45-49, 50-54, 55-59, 60-64, 65-69, 70 & Over
Weight: Clydesdale (Men over 200 pounds) and Athena (Women over 150 pounds)
Race as a X-Country Style Team (learn more)
Mobility Impaired
Marathon Price
$75 - through October 31, 2014
$85 - through January 1, 2015
$95 - through March 16, 2015
$105 - through May 14, 2015
$115 - through June 8, 2015
$125 - registration at expo on June 12, 2015
Registration is limited to the first 2,000 participants.
Cost for VIP Utah Valley Marathon
Registration Open NOW!
Register Today
Marathon & Half-Marathon Teams Option
Learn about our marathon and half-marathon teams option.